Welcome to
Horns For Kids!
Horns For Kids, Inc. is a tax-exempt (501c3) non-profit organization that supports deserving school music programs throughout Connecticut. Our main purpose is to encourage children to experience the thrill of performing music in school, and as a life-long activity. H4K raises funds through private and corporate contributions -- and awards clean, playable instruments to deserving school music programs throughout Connecticut. We accept donations of new and gently used instruments, have them refurbished, and distribute them to deserving Connecticut schools. Since 2003, H4K has helped 393 Connecticut schools in 109 towns.
CLICK HERE
to see every instrument Horns For Kids has awarded.

Donate a musical instrument to Horns For Kids, and we'll make sure that it gets to a student who can use it! All kinds of gently-used and/or new instruments are needed: brass, woodwind, string, percussion and keyboards. Go to the
DONATE AN INSTRUMENT
page by clicking on the "hot" musicians below -- or the button in the navigation bar. [Your donation is tax-deductible.]


Your tax-deductible contribution to Horns For Kids is urgently needed for repair of donated instruments. Even a contribution of $5-10 dollars can make a big difference.
Simply click on the Blue Button above
to go to the Contributions page.
All funds
received are used to support students in deserving school music programs throughout Connecticut.
---



See the National Opportunity-To-Learn Standards for Music Instruction in Schools K-12.
Teachers: Click Here for Ten Ways to Promote Your Music Department.



---
---

In Memory of Carl Grande (1936-2005)



---
Scot Haney Visits Horns For Kids

Scot Haney of WFSB-TV3 in Hartford stopped by Horns For KIds on Thursday, January 8 for a visit. He interviewed Fred Rossomando, H4K co-director, for his show
Better Connecticut
. The show airs weekdays on WFSB at 3pm. Scot impressed us by playing a scale on one of the donated cornets that will be awarded to a school in May. Scot played the baritone horn while in high school in New York state. The interview should air soon. We're grateful to Scot for the attention, and thoroughly enjoyed visiting with him. It also turns out that the camaraman accompanying him is married to a music teacher in Waterbury who's school received a bell kit from H4K last November. Small world.
---
---
---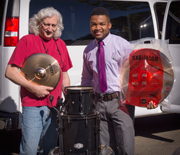 Kenneth Joseph (right) of Highville Charter School, New Haven, picks up a drum kit on Sept. 23, 2014
---
---
Woodbury MS Awarded Baritone Horn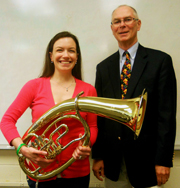 Amy Perras, teacher, Woodbury MS and Bill Geddes, former Reg. 14 coordinator
Woodbury Middle School was awarded a Musica-Steyer baritone horn on May 13, 2013. Accepting the instrument for Woodbury Middle School was Amy Perras (see above), instrumental music teacher. Also pictured above is Bill Geddes, former music coordinator for the Region 14 School District.
---
BarryFest Raises
Funds for H4K

BarryFest
, a celebration of the life of Mancheshter native, Barry Grant, took place on July 14, 2013, at a Manchester restaurant. Eight of his favorite bands performed as a tribute to Grant, who was their friend and avid supporter. About 300 of Grant's closest friends attended and donated $2,000 dollars in his name to benefit Horns For Kids. Grant who passed away in October, 2012, won many awards for his radio programs on WPLR and WDRC, including Billboard Magazine's
Personality of the Year
.
READ THE FULL STORY HERE.
---
For the second year in a row, the Darien High School chapter of Tri-M Music Honor Society has raised significant funds for Horns For Kids. Under the direction of Chapter president, Jeffrey Sload, the Darien HS chapter raised $2,400 dollars for Horns For Kids during this past December/January Holiday Season. We are very grateful for the work of these students who organized the drive on their own. They have made it possible for other deserving students in Connecticut to experience the thrill of making music. And at the same time they have shown by their example that doing for others is what the Holiday season is all about. Horns For KIds is thankful for their contribution to music education in Connecticut.
---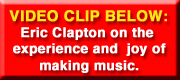 CLICK HERE TO PLAY CLAPTON VIDEO CLIP.


Test your musical knowledge. CLICK ABOVE.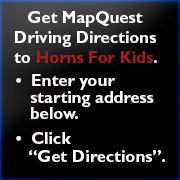 FILL OUT FORM BELOW FOR DIRECTIONS TO H4K.
---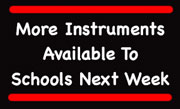 More Instruments
Available
Monday, April 20
Horns For Kids will have over 60 instruments available to schools next Monday, April 20. Check back here next Monday morning to see the list of instruments available and to download the application. There will be a good variety of instruments available, including: 6 alto saxes, 2 baritone horns, 2 French horns, a bass clarinet, 2 cellos, 2 violas, 6 violins, trumpets, trombones, bell kits, drum sets, an oboe, flutes, clarinets, electric and acoustic guitars (w/amps), and 2 keyboards. All instruments are clean, playable, and in excellent condition (or new).
---
Instruments Awarded to Schools Nov. 11, 2014

Horns For Kids awarded 47 instruments to schools on November 11, 2014.
CLICK HERE
to see the list of schools receiving instruments, or go to the "Instruments Awarded" page. There were 88 applications for the 47 instruments. This is the largest number of applications we have ever received. There is an urgent need for donated instruments. If you know someone with an instrument not being used, please have them call us at
203-288-9771
. We'll put it in excellent condition and award it to a deserving Connecticut scnool. With your help, Horns For Kids will have more instruments available in the spring of 2015. To receive advance notice when more instruments are available, join the "Horns For Kids E-Mail News List" below.

To receive the latest news about instrument awards, subscribe to the free
H4K E-Mail News
by submitting your email address to us below:
---
Drum Sets Awarded to Schools in Sept., 2014
Eight Drum Sets were awarded to Connecticut schools on September 19, 2014, to schools in Bridgeport, Derby, Hamden, New Haven, and Middletown. There were 17 applications for the 8 sets. In October, Horns For Kids will have several dozen more instruments (woodwind, brass, string and percussion) available to schools. If you have subscribed to the Horns For Kids E-Mail News List (see above), you'll receive advance notice when they are available.
---
Horns For Kids awarded 46 instruments to Connecticut schools on Monday, May 19, 2014. We received 57 applications. To see the list of schools awarded instruments,
CLICK HERE
, or on the searchlight banner above. Join the E-Mail News List below to receive advance notice when the next group of instruments are available.
---
Instruments Awarded to Schools in May, 2013
Horns For Kids awarded 52 instruments to Connecticut public and private schools on May 13, 2013. There were 65 applications. To see the list of schools receiving instruments,
CLICK HERE
, or on the banner above. There will be more instruments available to schools this Fall. Check back here frequently. If you have subscribed to the Horns For Kids E-Mail News List (see below), you will be notified in advance.
---
CLICK TO HEAR H4K RADIO COMMERCIAL

Watch a QUICKTIME MOVIE about Horns For Kids. CLICK BELOW.
---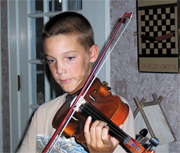 Click on Picture to read how Jason Fenwick collected over 13 instruments for less fortunate students
---

---
Recommend this site to a friend. Click on the envelope below:


---